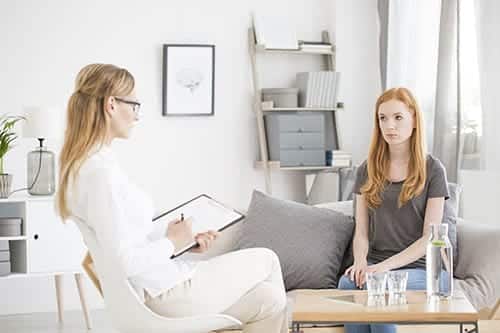 Northpoint Nebraska offers specialized programs that help our patients recover from substance use and behavioral health disorders so that they can get back to living life to the fullest.
Our integrated approach to addiction treatment involves inpatient detox and rehab, a comfortable, safe space in which to heal, and same-day admissions to help those in need begin the road to recovery.
Contact Northpoint at 402.698.3475 to learn more about our approach to treatment.
Why Northpoint Nebraska?
What do we offer?
Vivitrol and medication-assisted detox services
An evidence-based treatment philosophy
A safe and therapeutic environment
A highly qualified and accredited clinical team
A commitment to clinical excellence and healthcare quality
A modern 44-bed inpatient facility with state-of-the-art technology
A growing alumni program with online support groups and local events
Our Treatment Options
Our evidence-based inpatient programs provide patients with a comfortable, safe environment where they learn how to identify triggers, avoid relapses, and maintain long-term sobriety.
We design individualized and integrated treatment plans that address both your physical and psychological dependency and any co-occurring mental health conditions contributing to your addiction.
Our Approach to Addiction Treatment
Because of our belief in the uniqueness of each and every person, we believe that each person deserves their own customized and individualized treatment plan.
Using evidence-based treatments, the staff at Northpoint Nebraska gives each patient the exact services needed in their journey. Beginning at the admissions call with the highly-trained and experienced staff at Northpoint Nebraska, a plan will be developed to give each individual exactly what they need to not only succeed but to live a life in long-term recovery.
Northpoint Nebraska offers inpatient treatment programs for those battling substance use disorders, mental health disorders, or both. Inpatient programming varies in length depending on medical necessity and provides instruction that is designed to teach you how to identify triggers, avoid relapses, and maintain sobriety.
We All Have a Unique Story
Get Started! 402.698.3475
Our Counseling Approach
When receiving counseling and therapy services for mental health or addiction issues, it is important to dig in and come at the disorders from all angles. While addiction treatment methods vary for all patients, most patients require more than just the traditional individual counseling sessions.
Some of the therapies and services we offer include:
Dual diagnosis
Relapse prevention
Family therapy
Cognitive-behavioral therapy
One-on-one counseling
Psychiatric care
Mindfulness and meditation
Addiction Recovery Services
If overlooked, a patient with co-occurring mental health and substance use disorders is dealt a great disservice by their rehab center. At Northpoint Nebraska, we understand that a large percentage of those with mental health disorders turn to addiction without ever knowing that they have a mental health disorder.
When this is the case, it is called a co-occurring disorder, and many treatment centers throughout the country are not equipped to provide services for both mental health and addiction recovery simultaneously.
There are countless mental health disorders that can play into addiction and co-exist with it. Among the most common disorders are anxiety, depression, eating disorders, trauma, and obsessive-compulsive disorder.
When treatment centers are unable to provide care for both disorders, the chances of lasting recovery are considerably smaller. Without treating underlying psychiatric disorders, patients are far more likely to return to coping with substances. Without treating addiction, proper treatments for psychiatric disorders are harder to complete.
In providing dual diagnosis treatment or integrated care, clinicians aim to assist by teaching you or your loved one how to cope with both conditions in a functional way, allowing for a more fulfilling and structured life.
A dual diagnosis treatment approach usually contains most of the following steps at Northpoint Nebraska:
Detoxification, evaluation, and diagnosis
Personal therapy with a counselor
Group therapy
Family therapy
Aftercare planning
Aftercare support
Our Holistic Program Includes More Than Just Counseling
We take a holistic treatment approach to addiction and mental health. This essentially means that we attack your addiction or mental health disorder from all angles.
When thinking of recovery, 12-step programs are one of the first that comes to mind with the popularization of groups such as Alcoholics Anonymous. At Northpoint Nebraska, there are paths to take that include following the 12 steps and alternatives to the 12-steps.
The 12 steps to follow for those that thrive in structured settings are:
Surrender
Hope
Commitment
Honesty
Truth
Willingness
Humility
Reflection
Amendment
Vigilance
Attunement
Service
Northpoint Recovery Centers are firm believers in the structure and accountability that comes with 12-step programs.
Along with individual counseling and therapy offerings, Northpoint understands that having support groups and speaking with more than just a licensed counselor will do wonders for anyone dealing with a mental health or substance use disorder.
Sharing your story and hearing accounts about other patients' addiction battles is an integral component of the recovery journey. Process groups can help you see your own past from an open-minded perspective.
Another important piece in the puzzle that makes up recovery from substance use and mental health disorders is family. Families are complex, and that goes without saying.
Reach Out to Northpoint Nebraska Today
Learn more about Northpoint Nebraska's treatment approach today. Lasting, sustainable recovery is possible. Whether you're reaching out for yourself or for a loved one, our team can help.
Connect with our team at 402.698.3475 to find out how our addiction treatment methods can provide hope and healing.