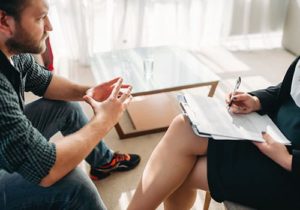 Mental health is essential to addiction recovery. Studies show that at least half of people living with addiction have co-occurring disorders. Anxiety, depression, bipolar disorder, ADHD, and other mood disorders can affect addiction, recovery, and daily life. Unfortunately, many people today lack a diagnosis and proper treatment for mental health. That's why Northpoint Nebraska puts patients' mental health at the forefront of recovery with cognitive-behavioral therapy and dual diagnosis.
If you or someone you love in the greater Omaha area is struggling with addiction and mental health, Northpoint Nebraska can help. Call us now at 402.698.3475 to learn more about our addiction therapies. 
What Is Cognitive-Behavioral Therapy?
Cognitive-behavioral therapy, or CBT, is a behavioral talk therapy that addresses patients' belief systems, mental health, and behaviors. CBT is the most commonly used talk therapy for addiction recovery because its evidence-based techniques are proven effective. 
Cognitive-behavioral therapists provide patients with coping tools and strategies for daily life. They help patients understand, process, and live with difficult emotions and stress. Over time, therapists and patients work together towards positive life change. 
Therapists generally meet one-on-one with clients for 60 to 90 minutes at a time. However, CBT can also be used in family and couples' therapy to change relationship dynamics and open communication between loved ones. 
Additionally, therapists give patients new perspectives and homework to practice new coping tools at home. Small daily practices help patients gradually change behaviors. This prevents anxiety, lessens the sense of being overwhelmed, and fosters long-term change. Over time, clients become more independent and see their therapists less frequently. The one-on-one support of CBT can make outpatient recovery feel more stable and individualized. 
Outpatient recovery is a great place to start cognitive-behavioral therapy. Patients at Northpoint Nebraska use tools from therapy every night when they leave the clinic and return home. This allows them to try new things and build emotional intelligence every day. Outpatient CBT patients often see faster changes in mood stability, behavioral patterns, and communication. 
Benefits of Cognitive-Behavioral Therapy at Northpoint Nebraska
Addiction recovery and co-occurring can be overwhelming. At Northpoint Nebraska, we pair dual diagnosis with CBT for comprehensive support. By treating undiagnosed mood disorders alongside addictions, patients experience fewer cravings and a lower risk of relapse. Cognitive-behavior therapy at Northpoint Nebraska provides patients consistent, individualized care with the flexibility of outpatient recovery.  
Benefits of cognitive-behavioral therapy at Northpoint Recovery include:
Long-term care and support network

Overcoming negative beliefs with ease

Understanding personal and familial behavioral patterns

Improving communication skills

Individualized care

Successful dual diagnosis treatment

Trauma-informed therapists

Relapse prevention

Aftercare planning

Practice setting and meeting goals

Ability to manage stress

Emotional intelligence

Ability to set personal boundaries for health
Our Omaha-based cognitive-behavioral therapy helps people in outpatient rehab feel supported and experience actual change in addiction recovery. 
Try Cognitive-Behavioral Therapy Today in Omaha 
If you're ready for comprehensive outpatient care in the greater Omaha area, call Northpoint Nebraska now. Our range of outpatient programs provides those with mild and moderate addiction the support and flexibility they need. Our programs treat:
Cannabis use disorder

Heroin addiction

Prescription drug addiction

Opioid addiction
With a range of outpatient options, Northpoint Nebraska provides addiction recovery resources that work. We know each patient's addiction story is different. That's why our programs offer individualized care with one-on-one cognitive-behavioral therapy, mindfulness and meditation training, medically assisted detox, aftercare planning, group and family therapy, and an onsite gym. 
Experience Effective Addiction Therapies at Northpoint Nebraska
Ready to learn more about what Northpoint Nebraska and cognitive-behavioral therapy can do for you? Call us now 402.698.3475 to learn more about our addiction therapy programs and enroll today!