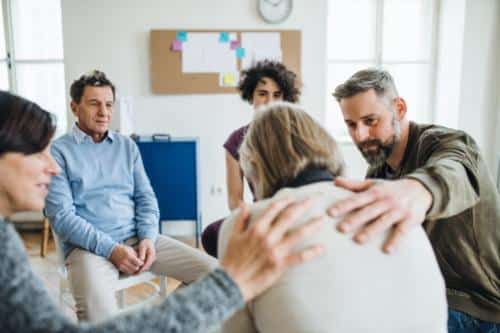 Therapy can be vital for addiction recovery and co-occurring disorders. Today, at least half of people living with addiction have co-occurring mental health disorders. Addiction therapy programs are one of the best ways to address addiction and co-occurring disorders at the same time. At Northpoint Nebraska, we help the people of Omaha recover together through our group therapy program.
If you or someone in your life needs addiction therapy, Northpoint Nebraska can help. Learn more about our clinic and addiction therapy programs. We have the program for you with one-on-one, group, and family therapy. Reach our staff now at 402.698.3475 to learn more about the benefits of group therapy at Northpoint Nebraska.
What Is Group Therapy for Addiction Treatment?
Group therapy is just what it sounds like. Similar to individual talk therapy sessions, group therapy brings together multiple people with a therapist. Group therapy combines patients with similar addiction experiences to help each other through recovery. The therapist works to balance the needs and growth of multiple clients, carefully addressing shared issues while ensuring unique challenges are also addressed. For addiction recovery, group therapy provides a safe space to share common experiences without judgment. This can help people reframe their addiction and realize that others have similar addiction stories. 
Patients meet with their therapist daily or weekly, depending on their outpatient program.  Benefits of group therapy for addiction recovery include:
Cost-effective treatment

Solidarity

Mirroring

Consistent community building

Long-lasting friendships

Better communication

Better boundaries
Group therapy relies on trust and confidentiality among group members. A therapist can help cultivate a safe, trusting space for community healing. It can be an excellent way for people in recovery to improve communication skills and better understand their own addiction. 
What Happens During Group Therapy Sessions for Addiction?
Group therapy sessions are different each time patients meet. Every therapist has their own approach and may specialize in certain kinds of therapy, like cognitive-behavioral therapy (CBT) and dialectical behavior therapy (DBT). A cognitive-behavioral therapist will focus on helping the group understand how to control thoughts and feelings and shift behaviors for long-term change. CBT is a common tool in group therapy because it helps people improve communication and boundaries.
An interpersonal therapist focuses on the role relationships play in each client's life and among the group. An emotionally focused therapist will prioritize helping the group build healthy attachments. In most cases, group therapists combine approaches and types of therapy to suit the group's needs and growth. 
Second, the therapist will alter their approach based on the needs of the group each day. The group also has significant control over the direction of a session, giving people a sense of safety and control. The values, political views, personalities, and relative comfort levels of group members all play into how sessions unfold. Some people may be comfortable in group therapy and talk frequently. Others take time to build trust, find their voice, and open up to the group. In both cases, group therapy can be a deeply healing component of addiction recovery. 
Find A Group Therapy Program in Nebraska Today 
If you and your loved ones need affordable mental healthcare, our group therapy programs can help. Northpoint Nebraska's Omaha clinic provides comprehensive group therapy for addiction recovery and co-occurring disorders. Our programs also include:
Drug detox and rehab

Alcohol detox and rehab

Dialectical behavioral therapy

One-on-one counseling

Cognitive-behavioral therapy

Co-occurring disorders 

Medical intervention

Relapse Prevention

Onsite gym
Our outpatient programs help you and your loved ones get the support you need that fits your schedule. Our central Omaha clinic provides convenient, comprehensive, evidence-based care. 
Start Group Therapy for Addiction Recovery at Northpoint Nebraska
Call Northpoint Nebraska now at 402.698.3475 to learn more about the benefits of our group therapy and support groups, and get started today.