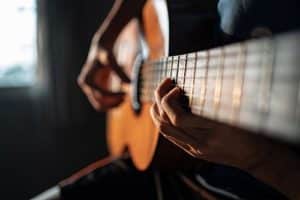 Alternative therapies are increasingly important modalities for addiction recovery. Addiction treatment studies show that a combination of behavioral and alternative therapies can help reduce triggers and cravings while giving patients new tools for stress reduction. At Northpoint Nebraska, we understand the importance of combining therapies for individual addiction treatment. Our music therapy for addiction rehab helps patients address addiction, stress, and trauma through the joy of music.
If you or someone you love is looking for music therapy for addiction treatment therapies in Omaha, call Northpoint Nebraska today. Our outpatient clinic provides a range of addiction treatments, including music therapy. Call us now at 402.698.3475 to learn more about our addiction treatment therapies and get started with music therapy today!
What Is Music Therapy for Addiction Treatment?
Music therapy is an evidence-based alternative therapy. This means that therapists continue to develop music therapy tools and approaches based on patients' responses. Similar to art, dance, and other art-based therapies, music therapy combines art with self-expression. Patients engage with music during and after sessions to get in touch with emotions, de-stress, and recover from addiction. Music therapy is highly individualized and adaptable.
What Happens During Music Therapy for Addiction Recovery?
At Northpoint Nebraska, we know everyone's addiction experience is unique. That's why our music therapy program offers a range of music-related exercises. Patients enjoy working with therapists in group and individual sessions and working independently in between sessions. Many patients find long-term hobbies, passions, and coping strategies with music therapy. Common music therapy activities include:
Drumming
Dancing or moving to music
Making art to music
Songwriting
Discussing sensations and emotions in relation to music
Listening to music
Singing along to pre-recorded music
Writing lyrics
Learning techniques for distressing with music
Singing
Singing lessons
Learning an instrument
Playing music
A patient does not need to be a musician or musically gifted to benefit from music therapy. For many, music therapy provides the opportunity to learn new skills and connect more deeply to their emotions. No matter a patient's age or skill, they can benefit from music therapy. For those with co-occurring disorders, music therapy can help with emotional regulation and expression.
Benefits of music therapy include:
Lower anxiety levels
Emotional resilience
Ability to vocalize feelings and experience
Higher levels of self-esteem
Higher stress tolerance
Increased self-awareness
Increased focus
New hobbies
More creative energy
Ability to self-regulate
Emotional intelligence
Ability to create schedules and manage free time
Music therapy helps patients regulate their nervous system and self-soothe through their chosen musical practices. This can reduce the risk of reuse and help clients build connections and community.
Find A Music Therapy Program in Nebraska Today
Music therapy can be a deeply healing tool for addiction recovery. It can also be fun. For many patients, music therapy can help integrate work done in behavioral therapy. This means that patients make progress more quickly than with one type of therapy alone.
If you or someone you love is interested in music therapy in Nebraska, call Northpoint Nebraska today. Our outpatient clinic makes addiction treatment accessible to the greater Omaha area. With music therapy, meditation therapy, trauma therapy, and behavioral therapies, patients at Northpoint Nebraska get the support they need to recover. Our treatment programs balance care and flexibility. With individual, group, and family addiction therapy programs, Northpoint Nebraska is here to serve you and your loved one's needs.
Call Northpoint Nebraska Now to Get Started With Music Therapy for Addiction Recovery
If you think music therapy could help you, and your loved ones, don't wait. Call Northpoint Nebraska now 402.698.3475 to learn more and start music therapy today!