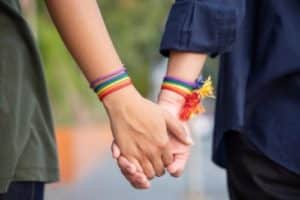 The LGBTQ community includes individuals that identify as lesbian, gay, bisexual, transgender, queer, and other sexualities. This community of people is often faced with stigma and discrimination. The LGBTQ community encounters several challenges and circumstances that have led to a high rate of substance abuse. In fact, substance abuse rates are higher among people in the LGBTQ community than in other areas of society. It is estimated that 20 to 30% of the LGBTQ community abuses substances. 
Because LGBTQ individuals face distinct challenges, LGBTQ addiction treatment is becoming increasingly available at treatment facilities. At Northpoint Nebraska, we offer a variety of addiction treatment programs, including LGBTQ addiction treatment for our LGBTQ patients. 
LGBTQ Addiction Treatment Center
LGBTQ individuals face challenges and struggles that others may not. For example, the LGBTQ community is often subjected to hate crimes, emotional abuse, public humiliation, threats, rejection from family or friends, and loss of employment. LGBTQ individuals may turn to drugs or alcohol to self-medicate. These substances may temporarily numb feelings of depression or anxiety but will lead to addiction and long-term consequences.
Finding an addiction facility that accommodates and can care for LGBTQ patients is important for long-term recovery and success. An LGBTQ addiction treatment center is a safe place for individuals to go through addiction treatment. Patients receive treatment for the physical and mental side effects of substance abuse. In addition, at an LGTBQ substance abuse treatment center, there is a focus on the isolation members of the LGBTQ community often experience. Patients also have access to treatment for any co-occurring mental health disorders.
What to Expect from an LGBTQ Rehab Program
An LGBTQ rehab program provides traditional aspects of addiction treatment while also tailoring programs and therapies to fit the individual's comforts and needs. Members of the LGBTQ community need to receive addiction treatment that takes into consideration the specific challenges and obstacles they may face in recovery. An LGBTQ rehab program can provide patients with assistance with issues of abuse, trauma, stigmatization, violence, and harassment. In addition, LGBTQ patients can be surrounded by peers facing similar circumstances who they can feel comfortable around and support. 
At Northpoint Nebraska, we offer a variety of treatment and therapy programs for our patients. We have an integrated approach to addiction treatment and provide all of our patients with a safe place to heal. LGBTQ patients can receive treatments for a variety of substances. In addition, we provide different therapies that can help with lasting healing and recovery. 
Our therapy programs include:
Dual diagnosis

Relapse prevention

Family therapy

Cognitive-behavioral therapy

One-on-one counseling

Mindfulness and meditation
An LGBTQ program can help patients recover from addiction and develop healthy habits and strategies to maintain lifelong recovery. In customizing our programs and services, LGBTQ patients can create a treatment plan that best fits their needs. At Northpoint Nebraska, our highly trained and experienced staff works to provide our clients with the exact services they need in their recovery.
LGBTQ Addiction Treatment in Nebraska at Northpoint Nebraska
The various challenges LGBTQ individuals face can contribute to a substance abuse problem. Those in the LGBTQ community struggling with substance abuse should seek treatment at an LGBTQ addiction treatment center. It is essential to feel safe during recovery and to have access to different therapy programs that can treat the mental health impacts of addiction. 
Northpoint Nebraska provides addiction treatment and rehab programs for those in or around Omaha, Nebraska. We provide patients with a place to heal and receive the treatment they need to enjoy a life of long-term sobriety. Reach out to us at 402.698.3475 to learn more about how our facility and methods can help you.